ANOTHER NIGHT BEFORE CHRISTMAS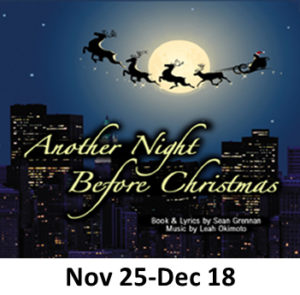 Sunday & Monday, September 11 & 12, 6:00pm
Directed by David Bristow, Music Direction by Shari Summers
Come prepared with at least 2 minutes of an audition song that showcases your personality and range. Best choice is to bring a karaoke or backing track with you on CD or an electronic device. Sheet music is also acceptable. Acapella is not acceptable. Sides will be provided for auditions.
Rehearsals are typically Sunday thru Wednesday in the evenings and begin on September 18. Performances are November 25 thru December 18 on Thursday, Friday & Saturday at 7:30pm and Sunday at 2:00pm.
CHARACTERS:
Karol Elliot
Female – 30s-40s
She's attractive, verbally fast but cynical in an endearing way. She's very tired of the world. A social worker, she wants to help people but increasingly, she's losing faith in them. She's logical to a fault. And beyond.
The Guy
Male – 50s-60s
Also very fast, mischievous, somewhat hip; loves nonsense. Tonight, he's on a mission. At first he seems a disoriented homeless person but later is quite sharp and to the point. Even in this, he is unfailingly kind and almost childlike. A man-child.
SYNOPSIS
Karol, a disillusioned social worker, is trudging home one cold December night when she encounters an old man sitting on a park bench. Mistaking him for homeless, Karol offers the stranger some food — a seemingly innocent gesture, until he turns up in her apartment claiming to be Santa Claus. Thanks to a malfunctioning security system, Karol finds herself trapped with "Mr. Claus" and forced to confront her feelings about Christmas once and for all in this touching musical battle between cynicism and belief.